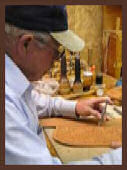 Doug attributes his inspiration and construction skill in saddlemaking to many early masters he was  privileged to meet. His experience both in the saddle and at the workbench brings first hand  knowledge to his trade. Doug's training with Bob Kelly and Ray Holes launched his career. Note the  late Ray Holes was the well respected saddlemaker who in 1936 began crafting the Visalia style  saddles so well known to Californians.
His flower carving is drawn freehand, distinctively carved deep and hand set on properly cased  leather.  Doug's saddles are well respected by working cowboys, competitors, pleasure riders and fine art collectors.  He never builds two saddles alike and enjoys creating unique designs for clients – but always with high quality standards in mind.
Doug's masterful saddle-making combines function and fine art in a tribute to the traditional west.