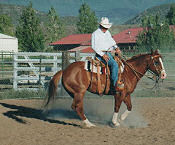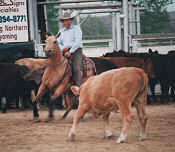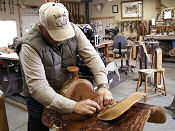 Custom Saddlemaker & Leather Carver
Every saddlemaker and gifted leather carver owes their talent and creative motivation to key people who instructed and influenced them during their early years. Doug owes a debt of gratitude to many early masters of style and knowledge he was blessed to meet and work with to develop his expertise. Doug was familiar with other icons of the saddlemaking world from riding their saddles and admiring their craftsmanship. He thanks Bill Knight and Stanley Diaz and all of the old Visalia and Hamley catalogs for inspiration in his development.
Doug's inspiration and construction skill in saddlemaking is also attributed to several very competent horsemen, A.D. Grandchamp, John Baeta, Sam Meads and Jim Roser. His early instruction was most influenced by Bob Kelly and Ray Holes. Note, the late Ray Holes was the well respected saddlemaker who began in Idaho in 1936 crafting the Visalia style saddles so well known to Californians.
Growing up on an Idaho ranch gave Doug hands-on experience with riding, training horses and working cattle. Known as a capable hand, he hired out for day work at ranches in Idaho, Utah, Wyoming and Montana, started his own colts, entered the show arena in reined cow horse and cutting competitions and did his share of rodeo bronc riding. Saddlemaking intrigued Doug and from 1976 to 1981 he trained under Bob Kelly and Ray Holes, well respected traditional saddlemakers. In 1981 Doug settled in Montana, opened his successful saddlemaking shop. Looking for milder weather, Doug relocated to Nevada in 2000 where he maintains his work studio with the help of his wife Deb.
Doug's background knowledge both in the saddle and at the workbench can be seen in every item he creates. Doug builds saddles and gear for the working cowboy, stockman, rancher, competitor, trail rider and fine art collector. His flower carving ability is distinctive; patterns drawn free hand and carved deep and lifelike, hand set on properly cased leather. Doug never creates two saddles alike. And he enjoys creating unique designs for clients, always with his high quality standards in mind.
Doug's handcrafted saddles have been featured at the Santa Ynez Historical Museum/CA; Western Folklife Center/NV and have been purchased for private collections throughout the world.